The nucleus of the Deer Lick Nature Sanctuary was given to the Nature Conservancy in June 1960 by Evelyn Alverson and her family. "JORDAN" as it was known to them had been their summer campsite for generations. In 1961, the adjoining farm was purchased from Donald Goodemote providing access to the highway. In 1964, Herbert F. Darling deeded 86.6 acres of land including Deer Lick Falls and some land to the north.
In 1967, Deer Lick Nature Sanctuary was designated a National Natural Landmark by the U.S. Department of Interior due to its outstanding geological and ecological significance.
Deer Lick Nature Sanctuary consists of 398 acres of forest, overgrown pastures, and open meadow. The forest is mostly a mixed mesophytic type, tending toward the Beech-Maple-Hemlock climax ecology. It's sunny meadows, cool forests, deep gorges, and sparkling streams are open to those who seek and respect the peaceful serenity of natural areas. Deer Lick's most striking aspects are its gorges and unusually tall trees. See dramatic views of the South Branch of Cattaraugus Creek below, home to rare tiger beetles and sand darters. 11 miles of trails and an interpretive kiosk are available. Enjoy a relaxed hike on the five color-coded trails (from 1 to about 3 miles long) of this sanctuary. (Season: Spring through Fall, 6am to dusk.)
Deer Lick Nature Sanctuary is owned by the Nature Conservancy, Inc. of Alexandria, Va., a national non-profit organization dedicated to the preservation of endangered plant and animal habitats and outstanding natural areas. It operates the largest private sanctuary system in the world. The care and protection of Deer Lick is the responsibility of the Western New York Chapter of The Nature Conservancy.
Official Brochure (PDF Format- 673k)
For more information contact: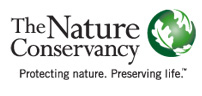 Western New York Chapter
315 Alexander Street
Rochester, NY 14604
(716) 546-8030
How to Visit
Drive south from Buffalo on NYS Thruway to Exit 57 (Hamburg), then south on US 62 through North Collins to Gowanda. Or from Elmira and points east, drive west on NY 17 two miles beyond Salamanca and turn northwest on NY 353. Follow NY 353 about 25 miles to Dayton and turn right on US 62 for four miles to Gowanda. From Main Street (US 62) in Gowanda, turn east onto Water Street at the bridge over the south branch of Cattaraugus Creek. Continue 0.6 miles to Broadway (NY 4) just beyond the railroad crossing. Go south (right) on Broadway (NY 4) to Point Peter Road, turn left (pay attention, this turn comes up fast - it is right after the grave yard on the left), and continue past Forty Road about 0.5 miles to the Deer Lick parking lot.
This page last updated October 21, 2008