Valentine Flats' 160 acres is one of the most beautiful and awe inspiring sections of Zoar Valley. A mixture of creek beds, field, woods, one terrace with a walnut tree plantation speckled with sycamore tress, another terrace with old growth trees and a hidden waterfall (Bare Bunns Falls), and a very nice river beach, all surrounded by the cliffs of Zoar Valley Canyon. The cliffs are covered with ancient or primeval old growth forest. Raspberries and blackberries are abundant for the picking.
Valentine Flats starts at the Confluence of the south branch and main branch of the sometimes moody Cattaraugus Creek and ends downstream near Lookout Point. There are excellent views in all directions. The end by the Confluence, being towered by Martin's Point is special, you have to be there to understand why. The sounds of the creeks coming together along with the up close size of Martin's Point is inspiring.
Also to be found in Valentine Flats is a unique Pyramid shaped hill. The top of 182' Pyramid Hill offers a beautiful view upstream the main branch of Cattaraugus Creek with Hogsback Ridge viewable in the background. The area also boasts of two other upper rim lookout points with breath taking views - Martin's Point & Lookout Point. Lookout Point is a favorite of mine as it overlooks the entire area. Hiking along the North Rim of the Zoar Valley Canyon also sports some nice viewing points. The top tiers of Bare Butt Falls is viewable from the North Rim.
Grape Vine Alley and Valentine Chimney & Cave are other distinct landmarks of Valentine Flats. A marsh where hawks perch on dead branches looking for prey can be found in the south terrace. This is an excellent area for birding.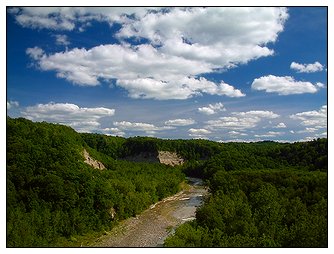 This page last updated October 21, 2008